I want to bust heads every time I see someone in my immediate neighborhood carrying around a thousand plastic bags. Even 1 plastic bag makes me want to assault someone. Seriously. This crap needs to stop immediately. I have a few, very few, areas in which I am superior to others and one of them undoubtedly is lack of plastic bag use. In your FACE! I am so good at it, that even when I forget to bring my Chico bag, tote bag, or giant purse with me, I will stuff my pockets full of produce and carry the rest of my items out the door in a wobbly, highly unstable stack. THAT'S how strongly I feel about NOT using plastic bags. They are bullshit and you all need to step it up and say "NO" to this stupid American culture and eventually less will be produced, hopefully even banned.
I am by no means someone who is 100% green, I am still working every day to lessen my carbon foot print, but EVERYONE can say no to plastic bags and this is one of those "no-brainers" that I cannot believe more people don't get on board with. It boils down to laziness and forgetfulness, that's it. These are traits which should be corrected regardless if you don't want to be a complete turd of a human anyhow, and start working on your flaws by making it a priority to either carry a tote bag, enviro-bag, chico bag, or back pack on you to store items you purchase. Those of you with cars----you have NO excuses. It takes no effort to haul that crap out to your car and just drive it home. Those of us city dwellers have to be a tad craftier, but, we also buy less at once because of storage problems and a general inclination to have someone else prepare meals for us.
Chicks. Yes, you ladies with huge purses that only have a wallet, lipstick, and bottle of Ephedra in it, you are some of the worst offenders carrying around a million plastic bags when in fact your "purse" could double as an orphanage. Put the fucking lotion in the basket, if you know what I mean! Seriously, if you are purchasing 2 toiletries, just put them in your tractor trailer purse! Stop, drop, and roll with it girl---- plastic bags are totes out, totes are totes in for the environment!
Dudes. I know many of you wander about "sans man bag". Okay, I get it, but the fact is, if you are a suburb dweller, you just need to keep one or two of those trendy cloth shopping bags in your car and use those for groceries/errands. If however you are a city boy, chances are that you have to carry some sort of day time bag with you whether it's a duffel, a messenger bag, or an attache. Simply put groceries or knick-knacks in them OR keep something folded up inside mentioned carry-all and voila, you've saved the earth. It's just the tiniest effort to get into a routine and the easiest way to avoid a withering look from me.
I for one live on a main drag in Brooklyn, New York. I literally live above a coffee shop, wine shop, and a stretch of grocery stores and bodegas. My head especially wants to burst into a million pieces when I see people who live on my block down in said businesses purchasing items which get placed in plastic bags and then transferred 10 feet into their apartment. WHAT THE FUCK. Just carry it! Seriously...say no thanks to the plastic bag once, and you will immediately climb onto the "i care about the earth more than you" superiority train, and though admittedly douchey, STILL SAVES THE EARTH.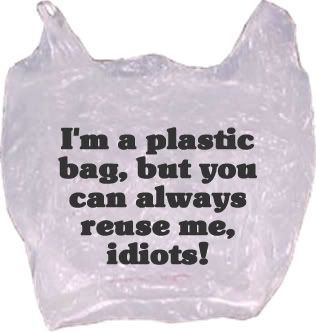 It's the little things that really do make big differences in the long run. Tucking away 40 dollars into savings every week adds up to almost $2,000 every year! Doing 3 minutes worth of crunches whenever you think of it adds up to a stomach that looks better than a stomach without sporadic crunches! I know it's a long stretch to think people will all suddenly ditch driving and start showing up to carry-out joints with their own bio-degradable tupperware while simultaneously wearing a head to toe ensemble made out of corn, but, honestly, even that would not be
that
hard to do. I think walking to work in a fuel-depleted country under the punishing sunlight of a 145 degree day while garbage cyclones knock you down sounds a little bit tougher.